What means information technology?
Information technology is a broad term that involves the use of technology to communicate, transfer data, and process information. The different trends within information technology include, but aren't limited to Analytics, Automation, and Artificial intelligence.
Why Information Technology?
Information Technology Is So Important Today For Its Commercial Use
Whether you are talking about a one-person sole proprietorship or a large complex corporation, Information Technology keeps businesses running. Without sophisticated IT equipment and systems, they simply cannot survive in today's competitive international economy.
Businesses and industries must have adequate IT and support systems in their offices, factories, warehouses, and distribution facilities. These departments all use IT to their advantage:
Management and Sales
Communications
Human Resources
Accounting and Finance
Operations and Research
"Information Technology (IT) plays a vital role in today's personal, commercial, and not-for-profit uses."
Information Technology is the main driver behind innovation, and without innovations, companies will not survive because they are the wave of the future. The digital revolution has created countless benefits for all businesses and kept them profitable. Virtually all businesses are recruiting IT applicants, with college degrees and some relevant industry experience.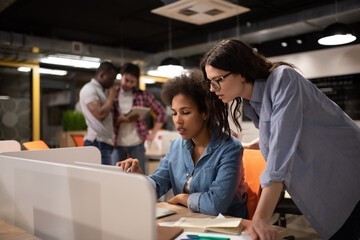 There are several ways IT has improved American business and our economy, including:
Improved marketing and sales –Internet marketing has changed the way we buy and sell products and services. Most brick-and-mortar stores use this method to compensate for the lack of walk-in traffic.
Better decision-making and problem-solving – It is much easier to do marketing and management research online than by older methods. We find data and information faster and easier, analyze it, and make better plans. Innovative software allows us to also get faster and more accurate customer feedback.
Improved customer support – All organizations need a great customer support system to monitor the marketplace and meet customer needs and complaints. Customer relationship management is vital to keep on top of everything.
Better control of resource management – IT helps businesses and industries operate more effectively and efficiently. Cloud computing is a major way to make this work by letting employees use devices anywhere they are to access their company's software.
Information Technology and innovation allow companies to be more adaptable and profitable. The future will be both exciting and challenging as everyone uses the latest IT for their personal and work applications.
Why Information Technology in MBMAN?
As we know, Information Technology plays a vital role in this generation. Madan Bhandari Memorial Academy Nepal has been serving this type of course since 2075 B.S. after introducing B.E. Computer, whereas it has introduced Bachelor in Information Technology since 2079 B.S.
1. It's a growing career field
Most students are nervous about finding a job after graduation. While nothing is guaranteed when it comes to the job market, employment in the IT field does appear to be on a strong trajectory. This job sector is projected to grow, with the Bureau of Labor Statistics (BLS) projecting that computer and IT occupations will grow by 11 percent from 2019 to 2029. That's a projected 531,200 new jobs!1
With the digital age constantly requiring new solutions for data storage, artificial intelligence, cybersecurity, and more, it's no surprise that IT workers are expected to be in high demand for the foreseeable future.
2. IT pros can work in nearly any industry
Not only is there a growing demand for IT professionals, but they also have the luxury of being able to work in nearly any industry. Technology powers businesses of all types, meaning that there's a tech position waiting for you in fields as different as retail, finance, manufacturing, and education.
While that might not seem like a big deal at face value, this provides potential job security. Recessions and relatively rough economic stretches are a fact of life. Having a broadly applicable and desirable skill set is a huge asset during times of uncertainty. IT skills provide options, and it never hurts to have options.
3. Several IT careers have high earning potential
First things first: You don't want to choose a field of study based entirely on your potential salary. If IT careers have already captured your interest; however, it's certainly a bonus to know that there's plenty of earning potential there.
According to the BLS, median annual salaries for IT professionals in 2020 ranged from $55,510 for computer support specialists to $126,830 for computer and information research scientists, with a percentage of high earners bringing home even more than that.1 Your personal earning potential in an IT career will almost certainly vary due to a variety of factors, but you can be encouraged by the data showing that even the lowest IT earners are still taking home solid pay.
4. It's an innovative career field
The tech field is constantly growing and changing. It needs employees who are excited to be on the cutting edge of innovation as it continues to evolve. If you're easily bored with the status quo and constantly imagining ways things could be better or more efficient, you'd probably be a good fit for an IT career.
"The innovations in IT happen before anything else," says Phil Strazzulla, founder of SelectSoftwareReviews. "Innovations in every other area of the tech field are driven by innovations in IT. Without those, the rest of the tech field would flounder."
5. The work is rewarding
Surprised to see this on the list? Don't be! Technology makes a big difference in entire industries as well as in the lives of individual people around the world. It can be rewarding to know that your everyday work is having a positive effect on others and contributing to the growing network of technology we all rely on.
"You get opportunities to bring leading-edge technology to life and make a difference in millions of people's lives," says Boris Abazher, founder and CEO of Triare. "Whichever role you choose, you will feel a part of this amazing process."
6. Curiosity is celebrated
Not all career fields welcome employees who think outside the box. Lucky for you, IT isn't one of them! Your natural sense of curiosity will be rewarded in the tech world, where you can use your drive for learning to help develop innovative new ideas.
"The people who thrive in IT are those whose curiosity outweighs all else. They're not satisfied when something works. They need to know why and how so they can recreate it over and over again," Strazzulla says.
7. The job is never boring
Many of the tech pros we spoke with shared that the variety in their workdays is one of the best parts of the job. While the details will depend on the specific type of IT role you pursue, every day has the potential to come up with new problems to solve, ideas to brainstorm, and tools to put to use. This variety of work can help keep your days feeling fresh.
"IT will always challenge you to learn new things," Abazher says. "Creativity and problem-solving are the cornerstones of this career."
8. You can find work opportunities in a lot of locations
The IT industry was leading the way in remote work even before the COVID-19 pandemic hit and turned many roles into work-from-home positions. "It is probably the most flexible career in terms of schedule. You can work on your own or in a team, whenever you like," Abazher says.
It's not just remote work opportunities, either. Having a strong background in information technology will give you a foundation of knowledge that can be applied across the globe. "IT skills are universal in every country, unlike, for example, accountancy and law. Relocating is a common practice," Abazher says.
9. You can get started with flexible education options
Unlike many other professions, the path to getting started or advancing in the IT field can be pretty flexible depending on your goals, career needs, and existing education levels. Getting started can be as simple as earning an Information Technology Support Certificate or a Network Support Certificate that can be completed in as few as six months.2 Offerings like these give you an opportunity to get started in the field as soon as possible while providing an excellent foundation of education to build upon as you progress through an IT career.